Warnham Park
is a privately owned Deer Park in Sussex, England, with an internationally famous herd of Red Deer renowned for producing superb antlers for over 100 years. In order to maintain and enhance the park as an amenity landscape, with open views through English oaks, the owners have developed an adjoining farm into a modern stud, breeding livestock for international sale, to provide genetic improvement to other herds specializing in production of trophies, velvet, venison or simply majestic stags in other parks.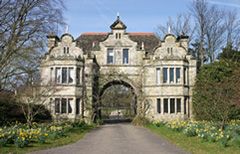 Main Entrance to Warnham Park

The Red Deer in Warnham Park
The Park
Superb antler genetics for park, farm or trophies
Excellent body weights for superior venison production
Minimal concentrates ensuring easy relocation and adaptability
Natural behaviour
The Farm
Single sire mating and calf to dam identification
Regular weight gain recording
Rigorous selection policy for good temperament and body size
Regular TB testing
Blood typed pure Red Deer (sourced from the park)
Expertise in Quarantine and Export Requirements
The New World Record
established in March 2016 is held by a pure Warnham stag (bred from exported semen and a female embryo from Bailing Hill Farm) with a field measurement SCI score of 763 (subject to ratification).