Historical Background
After the construction of Warnham Court in 1825, surrounding farmland was enclosed in 1837 in the heart of this Sussex Estate, to create a Deer Park for a herd of Fallow Deer. In 1851 a hunted Red Stag owned by Lord Leicester of Holkham Park, Norfolk jumped into the park for refuge and was subsequently given to his new owner. The stag was kept for hunting and joined by three purchased hinds. By the time the Lucas family purchased Warnham Court in 1865, there were 30 Red Deer in the park.
In 1870 the Warnham Stag Hounds were formed; the hounds were kennelled on a neighbouring estate, for hunting carted heviers (castrated stags) and hinds from Warnham Park. "Jim Crow" was the best known hunt deer, celebrated for his runs of up to 50 miles (80Km). Often these deer would return to the park to be readmitted by the keeper before the Hunt could catch them up. When hunted deer were lost, they were replaced with hinds from other English parks and some wild hinds from Scotland, creating a broad genetic base to the herd. The Warnham Stag Hounds were disbanded in 1915 and the Fallow were killed out during the same period.
The park including woodlands extends to about 215 acres (87 ha.) of which some 180 acres (71 ha.) are permanent meadow pasture. Alternately each summer, half the park is shut up for hay / silage and thus rested from stock, to provide winter fodder and a natural break in parasite cycles. Minimal concentrate feed is given only during the winter. On this simple extensive management basis, the park supports a winter herd of about 200 (20 - 25 breeding stags, 85 - 90 breeding hinds and 90 young stock) increasing up to 280 animals each summer with calves.
Ever since 1886, a systematic record has been kept of all deer. Every September the herd (excluding mature stags) has been drafted through the Deer House in the annual catch-up, in order to sex and age-mark calves, check numbers and health, and draft out culls and live sales.
Bailing Hill Deer Farm
In 1986, a small 72 acre (29 ha.) dairy farm adjoining the park was developed into a modern stud deer farm, principally to set up a Tuberculin Accredited herd from which to continue live exports to New Zealand.
Existing buildings were adapted, to house a circular pen handling system with electronic weighscale and hydraulic crush. The land was fenced to provide 66 acres (26.7 ha.) of paddocks, each connected to races direct to the handling yard. The foundation stock was sourced entirely from Warnham Park.
In 1993, a surgery complex was built to enable the sale of embryos and semen from pure bred Warnham donor hinds to recipient hinds in New Zealand, Canada and other markets in Europe.
Unlike the park, sophisticated handling facilities enable rotational grazing, drenching, calf in-wintering, single sire mating, calf to dam identification, and regular weight gain and pedigree recording. Animals are selected for good temperament, antler weight and shape, and body weight and conformation.
The farm supports a herd of 70 breeding hinds, 3-4 capital sires and young stock. The best young stock are available for live sale.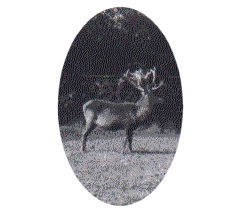 46 Point Stag in the Park, 1941
Park Stag Heracles in 2014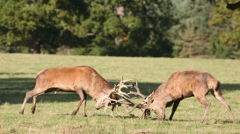 Fighting stags in the park rut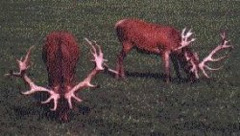 The Principal Farm Sires Duncan and Hercules in 2001, whose daughters number amongst the current breeding hinds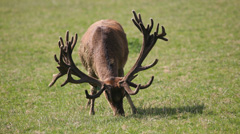 Farm Sire Norton (son of Jupiter) in velvet 2007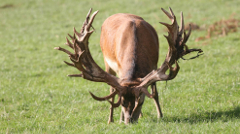 Farm Sire Bartholemu (son of Duncan) in 2011