Museum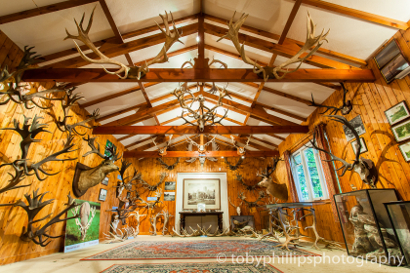 Inside the Park Museum
The private museum within the Deer Park contains a collection of antlers and mounted heads from Warnham Red deer since 1890. Most interesting are the historic British antler records for length (47½ inches / 121 cm in 1914) and numbers of points (47 in 1892). A recent addition comprises the lifetime mounted antlers of a 42 point stag which died in 1921. There are also photographs of a 1941 stag with 46 points, shortly before he was found shot (presumably for target practice by troops temporarily billeted at Warnham Court) and his head was subsequently stolen.
The most recent head is the skull and antlers of Poseidon shot in the park in 2011 with 50 points, being the first stag in the UK to break the 1892 record.
A range of other exhibits include a Victorian collection of taxidermy (mainly British birds), photographs and the 1897 Shand Mason steam pump Fire Engine.
There is also the Antler House at Bailing Hill Farm displaying the antlers of past and current farm sires, together with all cast antlers of current park stags.
Viewing is strictly limited at the owner's discretion to clients considering a purchase of livestock, when convenient and by prior appointment.